Saudi Arabia: Fire breaks out at Mecca hotel, 2 injured; over 1,000 Asian Haj pilgrims evacuated

Over 1,000 Asian pilgrims were evacuated early on Thursday morning from a hotel in the Saudi city of Mecca, after a fire broke out on the eighth floor of the building, Saudi Civil Defence announced on Twitter.
According to the civil defence agency, at least 1,028 Asian pilgrims were evacuated from the hotel located in Makkah's Al-Azizia district.
At least two pilgrims were injured in the fire. They were rescued by the firefighters, the Saudi civil defence said in a statement.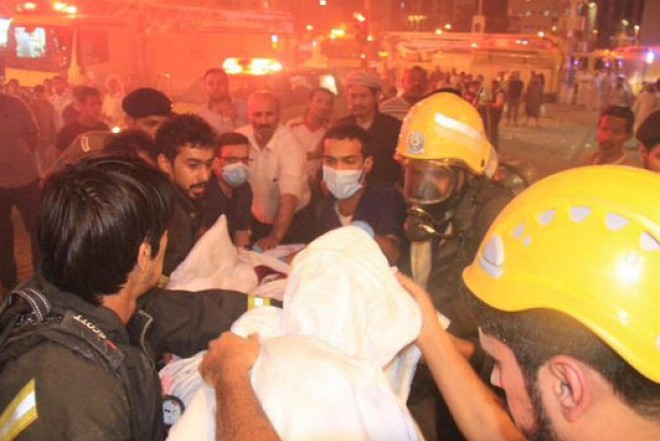 Saudi officials have not yet given the exact nationality of the pilgrims, nor has explained the cause of fire.
Over 3.1 million Muslim faithfuls are expected to arrive in Mecca for the annual Haj pilgrimage. In recent months, there has been a spat of untoward incidents.
On 11 September, 115 people, including several from Asia were killed after a massive crane collapsed on top of the Grand Mosque. In July, five people were injured after a fire broke out on the roof of Grand Mosque.
LINK
1,000 pilgrims evacuated during Saudi hotel fire
Makkah: Emergency officials in Saudi Arabia say more than 1,000 pilgrims were safely evacuated from a hotel in Makkah during a fire there ahead of the Haj.
Authorities say a blaze started today on the eighth floor of an 11-storey hotel in Makkah's Aziziya neighbourhood.
Saudi civil defence officials say two pilgrims were being treated for injuries from the fire.
The Haj is expected to start on Monday. More than one million pilgrims have already arrived for the annual pilgrimage, which all able-bodied Muslims are required to perform once in their lives.
The fire comes after a crane collapse in Makkah last Friday killed at least 111 people and injured more than 390.